GIF Animator is a powerful yet easy to use animated GIF maker. It allows you to easily create animated banners, buttons, userpics, GIF images for your website, presentation, e-mail, etc. GIF Animator includes a wizard tool to make creating high quality animation fast and straightforward.
Experts named it number one animated GIF maker when considering performance, number of options and ease of use. GIF Animator can be used both by amateur designers and professionals. No special training or knowledge is required!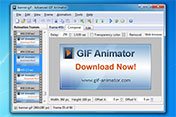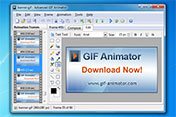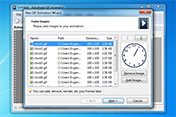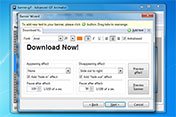 More screenshots...
Animation Wizard
Creating GIF animation is fast and easy with Animation Wizard. Many special effects and customizable options are included for enhancing and perfecting your GIF animation.
Built-In Image Editor
Edit animation frames directly from the GIF Animator. Built-in Image Editor includes full set of editing tools. You can undo all the changes if something does not turn out how you expect it.
Multiple graphics formats
You can use a large number of different graphics formats in GIF Animator, including JPEG, PNG, TIFF, GIF, BMP, PSD, ICO, PCX, PIC, RLE, DIB, PCD, AVI, WMF and many others.
Wizard tool with a bunch of special effects and transitions
Convert AVI video files to the studio quality GIF animation
20+ graphics formats support (JPG, PNG, PSD, TIFF, etc)
Built-in Image Editor with full set of editing tools
Complete support of all GIF file format variations
Advanced optimization for the smallest possible file sizes